A decade on, Noor Kids is on an upward trajectory
---
The Islamic-themed programme has grown dramatically since launching in 2012 with its shows now watched in 52 countries and its books selling in the thousands.
Noor Kids is the brainchild of Amin G. Aaser. Raised in Minnesota in the northern USA, Aaser struggled at school with his family's Muslim identity in a majority white town. Becoming a parent triggered thoughts on how to raise children in the US with Islamic values.
Aaser quit his job in venture capital and started researching children's education and psychology at the universities of Berkeley and Harvard, focusing on identity formation and character development.
In 2012, he launched Noor Kids with himself as executive director, author and master storyteller.
"Noor Kids is a character-building programme. That means every month families receive a new book delivered to their home and every week have an online live storytelling programme," he told Salaam Gateway.
Over the past three years, Noor Kids has had a compound annual growth rate (CAGR) of 225% in the number of families served.
"We have grown at a relatively fast pace and there's been no outside financing, so it's all boot-strapped. Hamdullilah, we are really proud of our traction," said Aaser.
Primarily subscription-based, families pay $40 for four months or $100 for 12 months to join Noor Kids' Akhlaq character-building programme.
The content is steeped in education, creating a proprietary SIRAT identity-building model across its work. Each of our stories is like a Harvard Business School case study but related to character for kids. We use positive modelling stories, where kids can put themselves into the shoes of one of our four characters who deals with a real-life problem. The stories follow an identity building curriculum, focusing on 36 themes related to Islamic character, citizenship, and belief. Finally, it's all about critical thinking – helping kids understand why they believe in what they do," said Aaser.
10 years, 140 stories
Over the past decade, Noor Kids has produced 140 stories. It has grown organically with its appeal spreading by word-of-mouth and via social media within and outside the US.
"We started in North America, a country of expatriates, so what that means is through Whatsapp it is very easy for (US-based) families to tell their family at home (abroad) about Noor Kids," he said.
In the first five years of Noor Kids, Aaser travelled from city to city doing programmes for Muslim families in mosques and masjids. "I think that played a key role in gaining trust for our initial audience, and that helped seed our initial foundation. It was a chicken and egg thing. Basically, a couple of communities knew our work, and then people would ask us to come and do a programme," he said.
During that time, Aaser visited 550 communities to provide teacher training, tell stories or have seminars.
Last year, Noor Kids' Character-building Programme reached 250000 individual families across 56 countries. Some 92% of viewers are in the US and Canada with the remainder primarily in the UK and Australia, as well as attracting some viewers in the UAE, Qatar, Nigeria, Pakistan and Malaysia.
So far, the content is English focused, but Aaser says there was a significant amount of learning to do around internationalisation. However, when it comes to the books Noor Kids publishes, they have had global successes, selling thousands of copies in Pakistan, the UAE and Malaysia.
"One reason for this is because our story line is a comedic sitcom of four American Muslim characters living in a suburb called Maple Grove. People (across the world) are really tickled … to learn about the experience of Muslims in America. That story line does well," said Aaser.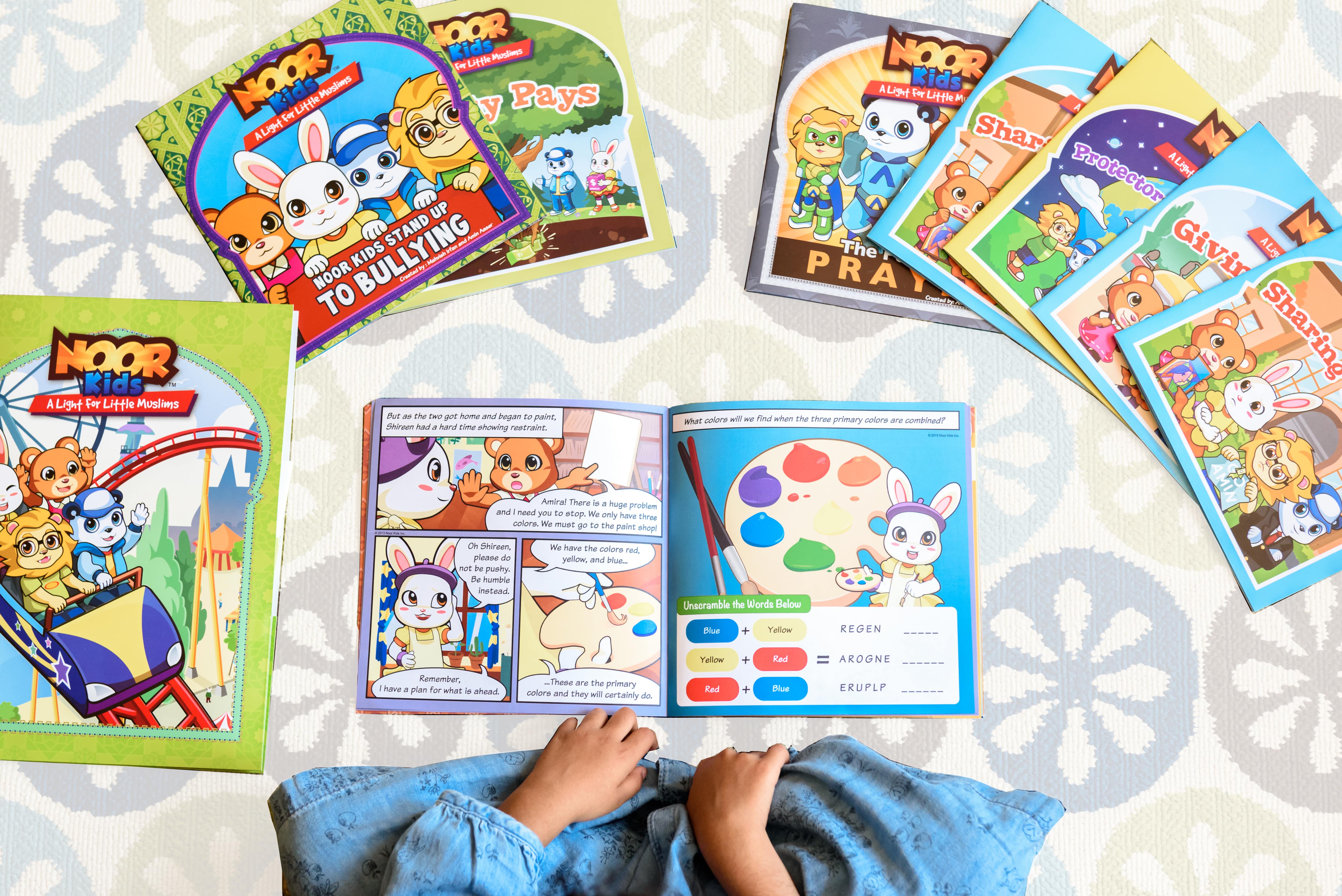 Books and online education
Another driver has been the shortage of high quality Muslim children's books in the UAE, Pakistan and elsewhere.
"I assumed there were a lot of Muslim kids' books, but it seems our approach is unique. We are steeped in a world where we are a minority – in the US – and forced to ask, why do we fast, why do we pray and why Muslims do what they do? I think it's because of that perspective our stories are differentially unique for kids," he said.
Noor Kids recently inked a joint venture to create Ilmspring with educational organisation Al Maghrib operating in the US, Canada, Malaysia and UK. It is aimed at online education for nine to 14-year-olds. Guest speakers include Sheikh Omar Suleiman, Sheikh Ammar Alshukry, Mufti Hussain Kamai, Ustadha Yasmin Mogahed, and Maryam Masud. The Secrets of Salah curriculum was designed by academic Maryam Razvi Padela. "It has been an epic success," said Aaser.
In addition to children's work, Noor Kids provides support to parents, such as the Muslim Superdad and Wondermom podcast.
Noor Kids also runs a Ramadan Camp for Kids. Initially a physical event, it has transitioned online since the COVID-19 pandemic. The benefit has been the ability to provide more reach within North America and worldwide.
"It has become exponentially bigger and this year will be the biggest yet, inshallah," he said.
During the holy month of Ramadan, Noor Kids has a different 30-minute show every night, ranging from game shows to storytelling and interviews with authors and activists.
Streaming platforms and financing
Aaser hopes to expand the Noor Kids reach through inking a deal with streaming platform Netflix as well as potentially with new Malaysian platform DuriooPlus and US-based platform USHUB.
"For us it is finding the right partner to have the right equity and to be a steward in the animated format," said Aaser. "My belief is there's never been a better time to be serving Muslim families and households."
This year, Noor Kids may seek $1 million to $3 million in external funding, but Aaser is assessing his options carefully.
"Noor Kids is about doing something meaningful and the impact for us is even more important than the financial returns. For financing, it is about finding the right set of people (who) share a similar set of values. If we were to take an approach of financial investors first, that would be a misalignment of goals," he said.
He is equally reticent to generate revenues based on advertising or from analytics derived from social media usage.
"We have a very strong educational focus and a burgeoning community of kids with thousands joining us every Thursday night for programmes. Now, we have the ability to create a community among these kids, sort of like (social media platform) TikTok, but is that the responsible thing to do? No. It may be lucrative from a financial perspective, but not from the educational side," he said.
Aaser's priority for the year ahead is to ramp up Noor Kids' digital product and animation and create more partnerships.
© SalaamGateway.com 2022. All Rights Reserved
Read – Muslims kids platform DuriooPlus launches
Read - Muslim-focused media expands worldwide and across multiple platforms
Read - Muslim-themed streaming platform USHUB to invest in original content
Read - Newcomer Durioo to launch two Islamic-themed cartoon series in 2022
---