Alimentaria's Halal Congress and Spain's halal food sector
---
The III International Halal Congress of Alimentaria will be held in Barcelona, Spain from 4-7 April 2022. Salaam Gateway talked with Javier Albarracín, a Partner at Barcelona Halal Services, about what to expect at the food exhibition and conference, and what is happening in the Spanish halal market.
Salaam Gateway (SG): What can we expect at the III International Halal Congress of Alimentaria?
Javier Albarracín: Alimentaria is one of the biggest food and beverage expos in the world, among the top seven. During the last 'normal edition' – before COVID-19 – there were more than 4,500 exhibitors, and more than 150,000 visitors from around the world. While Europe is very well represented, it is also international, with exhibitors from South America, the Middle East and East Asia. For this year's expo, we have confirmation that more than 3,500 companies will attend.
SG: How large will the halal food sector's presence be at the expo?
Albarracín: Alimentaria has the most comprehensive halal project of all European food expos. This is to do with the location of Barcelona, as it is between Europe and North Africa, and makes cultural and trade sense. We haven't finalised the number of exhibitors yet, but at the last edition there were more than 220 companies exhibiting halal products at Alimentaria.
Exhibitors can either be in the halal exhibition area, or they can chose to be in a sector or country pavillion. Many companies want to go to the meat or dairy pavillions, as they have good products that are also halal. At the last edition Thailand, Morocco, Turkey and Spain had their own pavillions. This year we will also have Malaysia and Senegal.
There will be meat, dairy, and also innovative companies doing nutritional drinks for sports that are halal certified. There's also halal food for kids, and halal certified alcohol free beverages. It is quite transveral of the whole food and beverage sector.
SG: Will halal ingredients manufacturers be at the expo?
Albarracín: With the growing sophistication of products produced today there is a growing need to certify the whole supply chain. There is a growing awareness about what ingredients and chemicals are used, and ecological issues are also having an impact on the whole value chain. In Alimentaria we will have a panel with two halal certified ingredients manufacturers, one a multinational company and the other a Catalan company.
SG: What topics are on the agenda of the halal congress?
Albarracín: Alimentaria will feature the first international halal congress with more than 20 experts from different parts of the world – from Singapore, UK, France, Belgium, Spain, and also virtual scholars from Dubai and the USA. We want to cover not only trends but the significant change in dynamics due to the COVID-19 era we are still going through. What is the impact of the digital role for Muslim consumers, and the new values consumers might attach to new concerns like food security and accessibility, and securing access to halal food in the global value chain. There are issues that could have been discussed at the last edition of Alimentaria, but since then new dynamics are affecting everyone globally - innovation, security concerns, and the new profile of Muslims consumers. And how the digital transformation is impacting logistics, consumption and delivery.
SG: What will the sessions focus on?
Albarracín: We will have sessions about the two biggest halal food markets in Europe: people from London taling about the British market, and the same for France. We will also have a session on the Gulf Cooperation Council countries in general, but particularly the United Arab Emirates and Saudi Arabia.
SG: Will there be cooking shows?
Albarracín: We are going to have cooking shows. Usually there is a stereotype that halal is all about meat, or is Arab food. We are trying to open minds through gastronomy, and the inclusiveness of doing every single type of food as Muslim-friendly. In previous events we did this with Thai and Catalan gastronomy. For this year's event we will have Indian and Lebanese food to show the diversity of halal food, and how to be be respectful of others' gastronomy. It is a way to build bridges and promote inclusiveness.
SG: In what other ways does Alimentaria stand out?
Albarracín: The other big exhibitions in Europe don't have such a comprehensive approach, of trying to promote knowledge, awareness and the tendencies of the sector from a consumer and company perspective. In today's context of redefining values and concerns, it is very interesting, not just to sell a product but also trying to think together with the sector: Where are these consumers? What are the producer challenges going towards? In today's context these issues seem even more relevant than just three years ago. Maybe an evolution that was taking place over 10 years has happened in the last two years due to COVID-19, so we need reflection, and to try to think about where things are going over the next five years.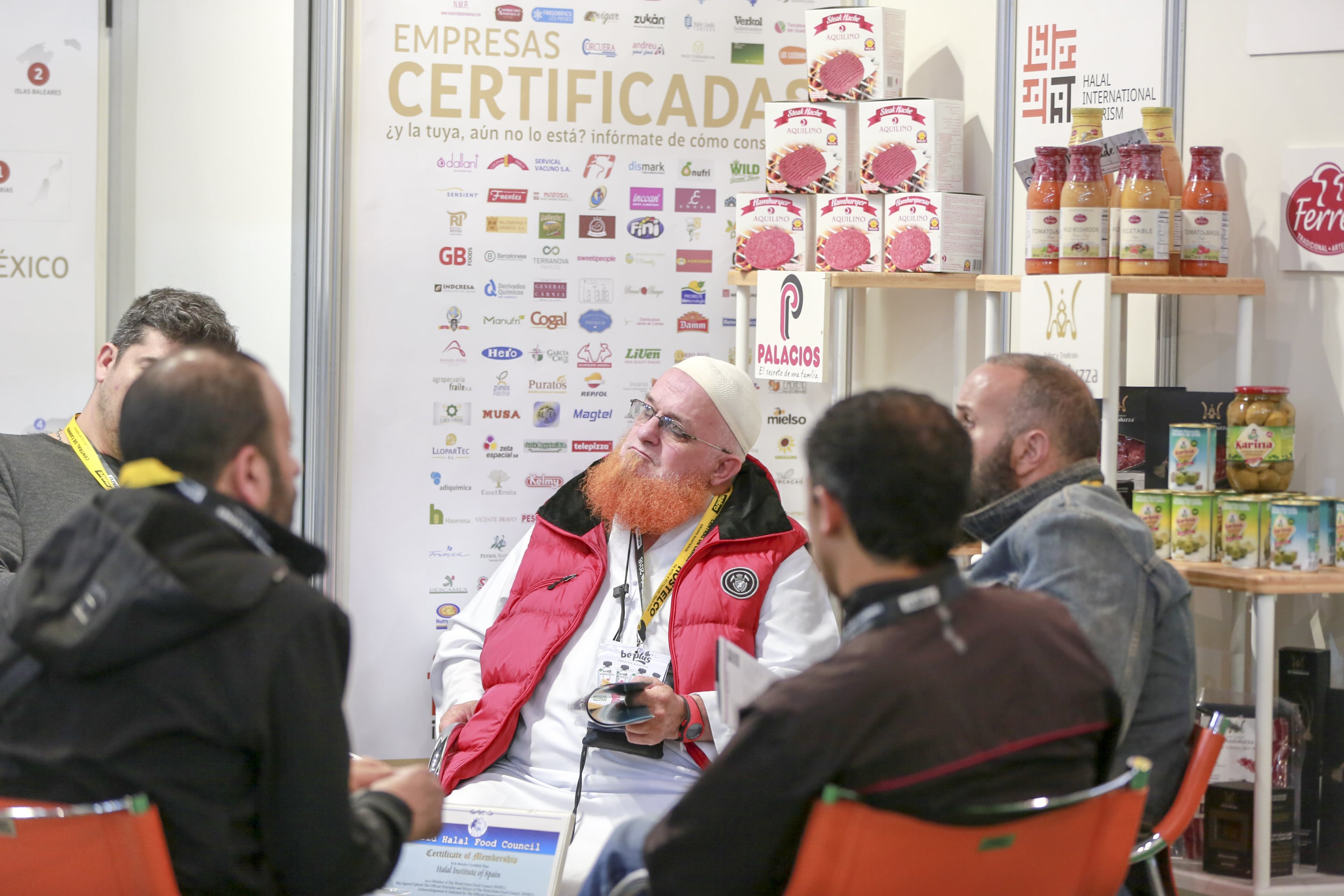 Alimentaria's Halal expo in 2018 (Courtesy: Alimentaria).
SG: What trends are you seeing in the halal food sector in Spain?
Albarracín: There is a growing interest as Spain has nearly 2 million Muslims, but they are not spread around equally, being mainly in Catalonia, Andalusia and Madrid. In Spain we do not have a mature distribution sector for halal food, and there's a real need to develop the logistics infrastructure and so on. I am soon to be chairing a roundtable of an event of one of the biggest food distributors of Spain - they are interested in how to cater to Muslim consumers. They might need to reach 35,000 restaurants, small shops and supermarkets around Spain. In general, companies first get into the halal segment to export, but slowly the national market – catering to Spanish consumers and tourists – is generating growing interest. But there is still a lack of awareness and knowledge about halal food and certification.
SG: So there are challenges and opportunities?
Albarracín: In Catalonia, we have more than 80,000 primary school students below 14 years old that are Muslims. That is quite a challenge for caterers and those that want to provide halal food, as the students are distributed around Catalonia. It is a big social challenge, but also an economic opportunity. For instance, I am organising an event in Northern Catalonia, near France, where there's a big Muslim populaton in Marseille and Toulose, so Catalonia can cater to French Muslims visitors that want to eat halal food when they visit.
SG: Can you tell us about the 'Halal Market' project between Portugal's Alentejo region and Spain's Andalusia region?
Albarracín: It is a $1.16 million project managed by the European Union, running from 2020-2022. As it is EU money, it really shows that there is a growing sensitivity and awareness of the halal issue. It is quite a unique project, as there are not many such projects where the halal component is promoted and defined, and cross border. The project between South Spain and South Portugal is to promote Muslim-friendly tourism and associated sectors, from gastronomy to tourism destinations. It is about how to make them more attractive in a comprehensive way. It is led by a foundation, Tres Culturas, based in Seville, about Jewish, Muslim and Christian culture.
SG: Javier, how long have you been involved in the halal food sector?
Albarracín: I have been working for more than 25 years in Muslim markets. I worked with the government, which has nearly 50 offices worldwide to promote the internationalisation of the economy. I was responsible for the Istanbul office as well as Casablanca, Dubai, Cairo and Tehran. After that I worked for 10 years in a European think tank in Barcelona to promote economic relations between the EU and the Arab world. I then established Barcelona Halal Services, a consultancy specialising in Muslim consumption and consumers, in Muslim majority countries and in Europe, especially Spain. I am also a professor, teaching the business culture of Muslim countries.
© SalaamGateway.com 2022. All Rights Reserved
---