COVID-19 pandemic can't stop Korea from attracting Muslim tourists, on YouTube
---
Travel restrictions are still grounding flights and tourists but South Korea continues to attract Muslim visitors, albeit to its YouTube channel.
Korea Tourism Organisation will start streaming "Halal TV" from September 14 to November 16 to continue its promotional activities. The tourism body will stream ten videos including halal cooking shows with celebrity chefs, and others that introduce halal restaurants across the capital city Seoul.
The South Koreans have learnt from experience that the way to pull in Muslim visitors is through their stomachs.
"KTO's "Survey on Muslim Tourists' Travel to Korea" revealed that many Muslims find the lack of halal restaurants inconvenient during their visit to Korea. Accordingly, the tourism organisation has hosted an annual event called "Halal Restaurant Week Korea" for the past few years to address this issue," the authority said in a statement on Tuesday (September 8).
Halal-certified eating establishments are not as ubiquitous in South Korea as they are in fellow Muslim-minority country such as Singapore, for example, that has a national-level certifier. KTO introduced three other categories of Muslim-friendliness to help Muslim visitors: self-certified (where all food are certified halal by their own Muslim restaurant owners), Muslim-friendly (where some halal dishes are offered), and pork-free (where there's no halal menu but pork isn't in the mix).
KTO in the past also introduced three e-books listing Muslim-friendly restaurants, tourist maps and routes.
Muslim-friendly travel is a focus sector for KTO, which also seeks to attract visitors across 15 other themes including medical tourism, health and wellness, nightlife, and skiing.
South Korea welcomed 17,502,623 visitors in 2019, up 14% from 15,346,879 in 2018. There is no available data for visitors by religion but as an indication, around 5.3%, or 930,614 visitors in 2019, were nationals from Muslim-majority countries, according to KTO data. 74% were from Malaysia and Indonesia where Korean exports such as K-Pop and cosmetics are popular.
Arrivals in 2020 have been significantly affected by global movement restrictions. Only 2,138,576 visitors arrived in South Korea from January to August, a plunge of 74.7% compared to the same period in 2019. Arrivals from Muslim-majority countries made up 6%, equivalent to 128,789.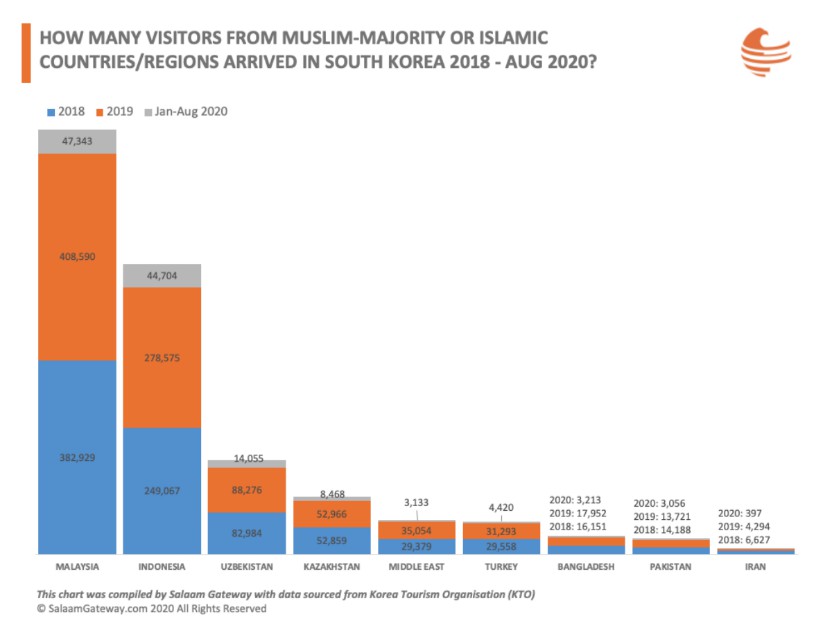 © SalaamGateway.com 2020 All Rights Reserved
---