What are Qatar's tourism opportunities after the FIFA World Cup 2022?
---
The country invested $300 billion into infrastructure development ahead of the global tournament.
Following in the footsteps of 17 countries, Qatar becomes the first Arab state to host a FIFA World Cup when the three-week soccer tournament kicks off on 21 November and catches the region's winter-based high tourism season.
While Qatar's hospitality sector's performance edged down to 62.5% in the first quarter of 2022 (2021: 77.4%), current flight bookings demonstrate an encouraging sentiment and experts say, supported by a robust gross domestic product (GDP) outlook, Qatar's focus will shift from infrastructure development to tourism.
The aim is to ride the World Cup Soccer wave to its maximum as the country hopes to mimic the post-tournament highs the $14 billion added to the Russian economy in 2018.
"As of 1 July 2022, flight bookings for Qatar during the FIFA World Cup are already 2% ahead of where they were in 2019, pre-pandemic; and bookings for the first nine days are 98% ahead," Olivier Ponti, VP Insights, at travel data and analytics company ForwardKeys, told Salaam Gateway.
He expects surges in flight bookings and, to a lesser extent cancellations, after the qualifying games' results are known and fans support their teams in the latter rounds.
The tournament held in Russia in 2018 attracted almost three million foreign visitors. For Qatar, besides fans travelling internationally, an International Monetary Fund (IMF) report published in June suggests the end of the diplomatic falling-out between Qatar, other Gulf countries, and Egypt, which lasted from June 2017 to January 2021, will boost intra-regional travel.
Transnational travel itineraries during the World Cup period will also spur tourism demand in the Gulf Cooperative Council (GCC) countries with visitors' spending increasing excise tax and VAT revenues in the applicable countries.
Oman and the UAE will likely benefit the most as fans may choose to stay there, given limited accommodation options in the host country. Qatar Airway's same-day flight shuttle service from Muscat and Dubai, advertised for $258 in economy and $998 in business class, will bring soccer enthusiasts to the games in Doha.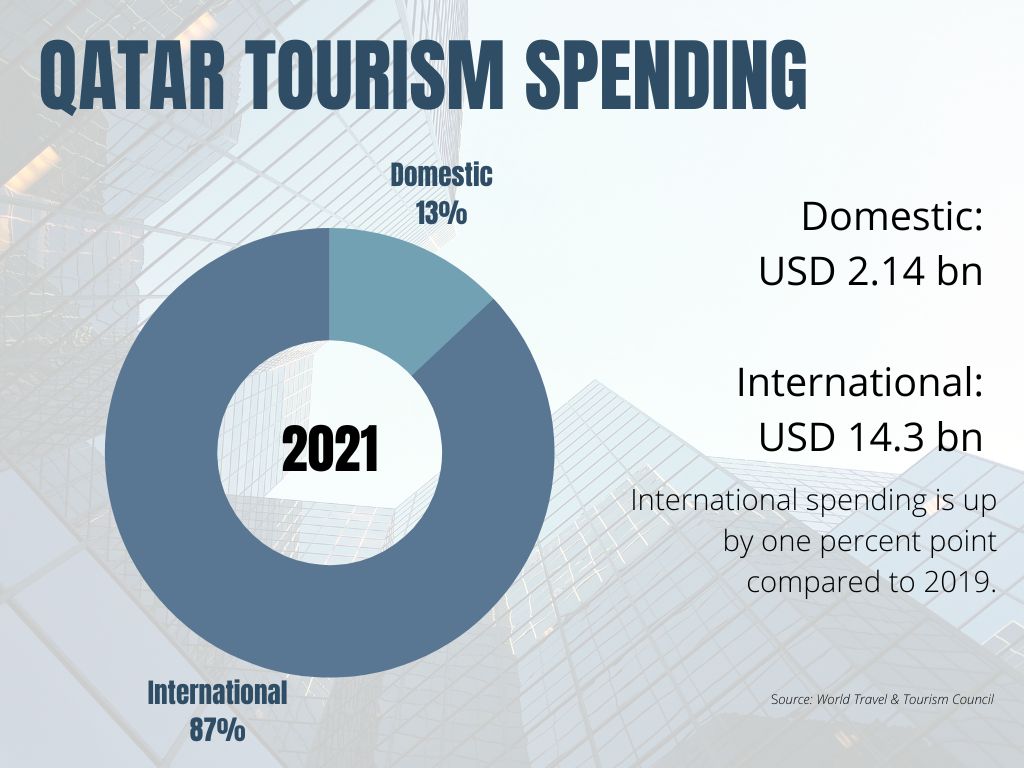 Beyond the FIFA World Cup
Qatar's GDP recorded an average 4.5% growth between 2010, the year the country was awarded the right to host the World Cup, and 2020, according to the IMF. In 2022, Qatar's real GDP growth is forecast at 4.1%, fuelled by higher hydrocarbon prices.
This makes Qatar the second-fastest growing GCC nation after Saudi Arabia with 5.1%, according to data analytics and consulting company GlobalData.
Most of the $300 billion investments in preparation for the World Cup covered general infrastructure projects such as building an integrated railway and metro system, road development, airport expansion and building Lusail city where foreigners can buy properties. Qatar spent between $6.5 billion and $10 billion building the eight stadiums; an amount the IMF reports is in line with the spending of previous hosting countries. These infrastructure projects realise Qatar's ambitious tourism strategy, including spreading tourism offerings across the country rather than just Doha.
While a Qatar Tourism spokesperson told Salaam Gateway the plans don't contain a specific Muslim-friendly tourism focus, the strategy anchors upholding Qatar's Arab and Islamic identity. These include encouraging family values as one of its four guiding principles.
Speaking at an industry event earlier this year, Berthold Trenkel, chief operating officer at Qatar Tourism, said Qatar targets six to seven million visitors by 2030, about three times more than the 2.1 million visitors recorded the year before the pandemic outbreak.
"We're also talking about nearly doubling the GDP share to 12%," Trenkel said.
As a way to grow inbound tourism, Trenkel names cruise ship tourism which accounted for 190,000 visitors in 2019, spurred by the inauguration of Doha port's new Grand Terminal before the start of the World Cup.
According to Qatar Tourism's website, the 24,000m2 terminal can handle 12,000 passengers daily, offering them the same level of service and facilities as Hamad International Airport. This includes seamless immigration, customs and foreign exchange facilities, along with other tourist services.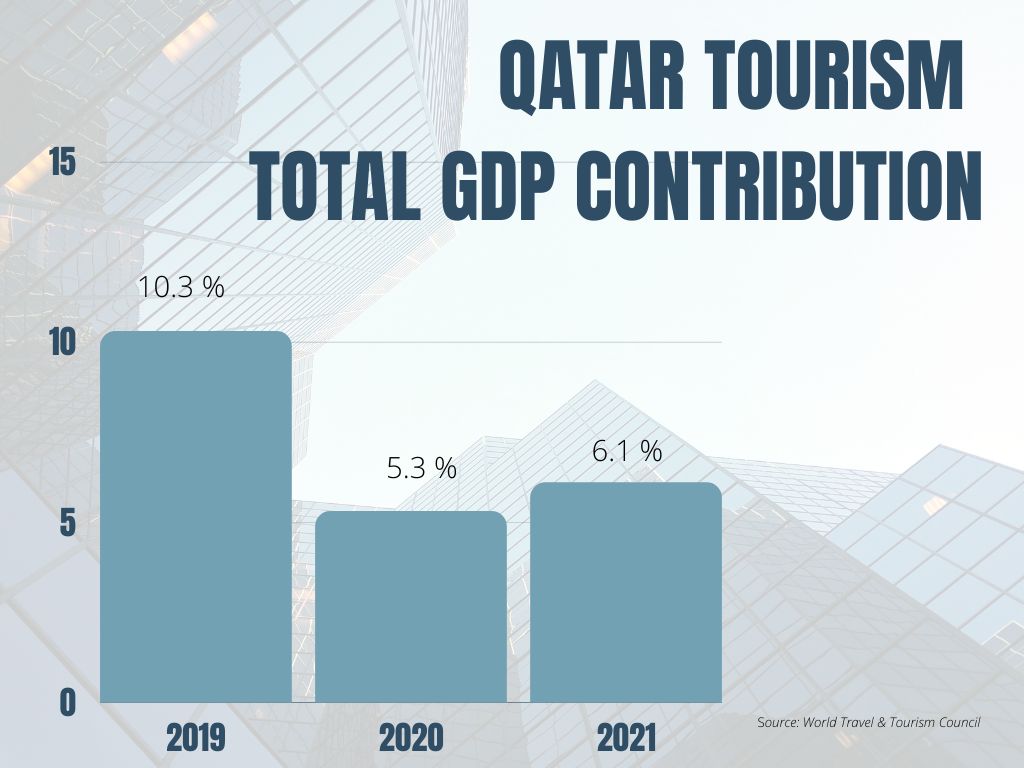 Future tourism markets
While Qatar Tourism expects to grow visitor numbers from GCC countries – for example through a recent partnership with Emerald Cruises that introduces new superyacht luxury cruises and offers eight-day itineraries with stops around the Gulf region – the country's future tourism market is going to be a mixed bag.
According to Fitch Solutions, Qatar expanded its source markets as the Saudi-led blockade, which ran from mid 2017 to early 2021, encouraged the country to find non-GCC markets and develop new tourism ties with mainland China, Europe and the USA.
For 2022, Indian arrivals are forecast at 303,000, followed by primarily GCC markets in the top 10 including Saudi Arabia (291,000), UAE (65,300), Oman (64,000) and Kuwait (46,000). The UK (111,260), US (77,000) and France (34,900) make up the three long-haul destinations in the top 10 ranking.
Fitch Solutions sees Middle East and North African (MENA) arrivals growing from 711,100 in 2022 to over 1.1 million by 2026, driven by Saudi and UAE visitors. Over the same period, European arrivals will grow from 308,100 in 2022 to 620,600 by 2026, while Asia-Pacific visitors, driven mainly by Indian and Chinese tourists, will grow to 905,800 by 2026, up from just under 534,900 in 2022.
© SalaamGateway.com 2022. All Rights Reserved
---