Halal food products nudging a place in South Korea's economy
---
New survey shows the impact of the country's 200,000 Muslims as they spend $1.11 billion annually on food.
A survey conducted by the Korea Institute of Halal Industry (KIHI) has shone a light on to the country's halal food sector and the buying patterns of South Korea's 200,000 Muslims.
While the Muslim population barely makes a blip on the nation's 51.2 million-strong radar, South Korea is a sizeable halal food producer with 335 companies certified and Muslim residents spending some $1.11 billion annually on food.
The survey, conducted in conjunction with the Ministry of Agriculture, Food and Rural Affairs and the Korea Food Research Institute, comprised 231 halal food companies producing 1,664 products.
"It is the first survey of its kind," said James Noh, CEO of KIHI to Salaam Gateway.
The results showed exports of $344 million in 2018, growing 15% on the previous year. By 2019 exports grew $51 million to $395 million and another 17% to $464 million in 2020. As the survey was carried out between August and October 2021, there is no data for last year.
"The results show South Korea's halal food exports to the world, not just to Organisation of Islamic Council (OIC) countries, was very good and is a growing trend. (The country) produces a lot of food additives," said Noh.
An estimated 66% of halal food exports by value are consumer goods (finished products) and 34% raw materials and intermediate goods. Out of the top seven halal-certified food items, food additives accounts for 359 products followed by processed seafood (217), beverages (215), noodles (120), condiments (105), function ingredients (85) and other foods (56).
Noodles are the single biggest export item by value at $152 million, while food additives exports are estimated at $76 million.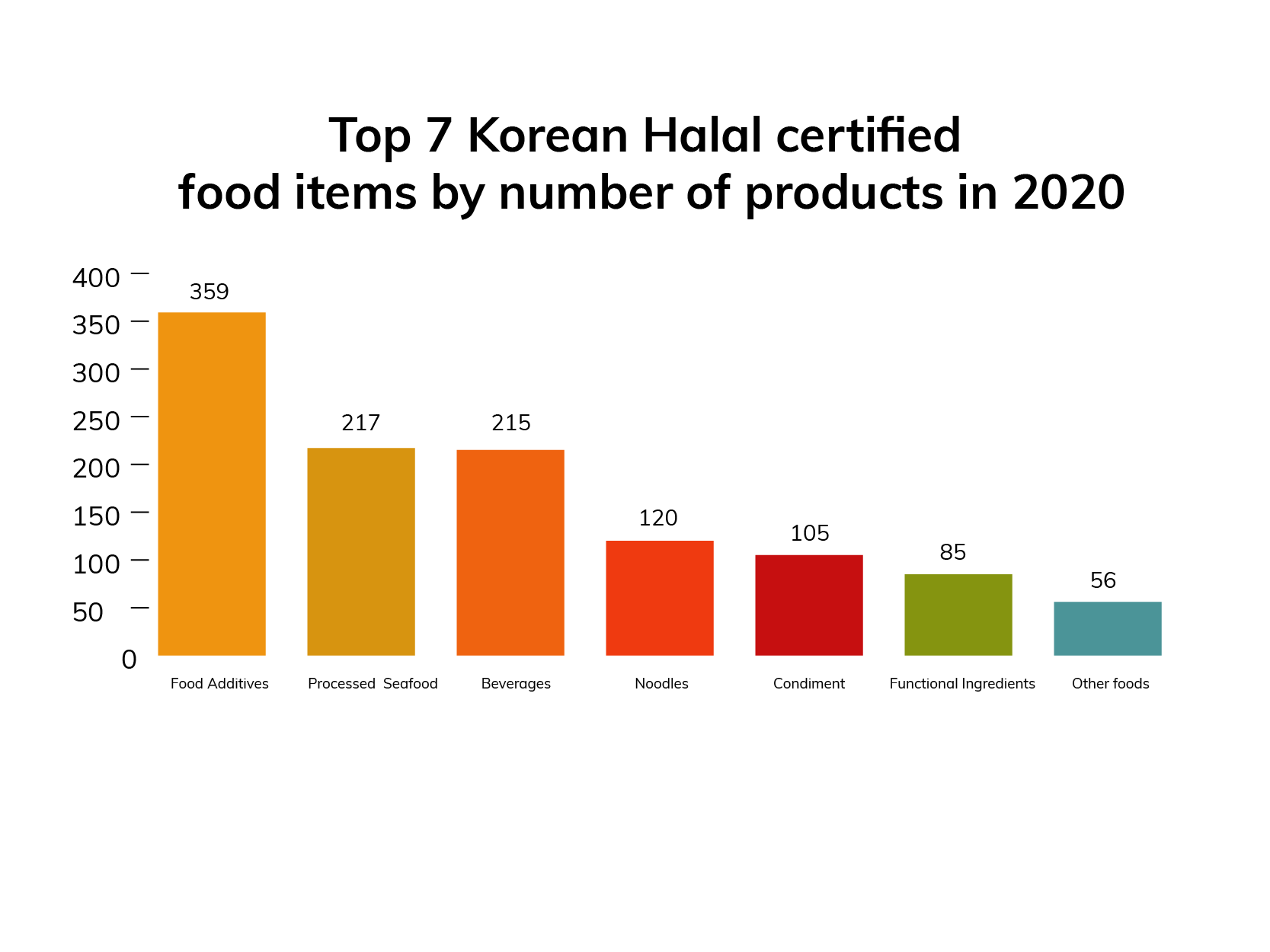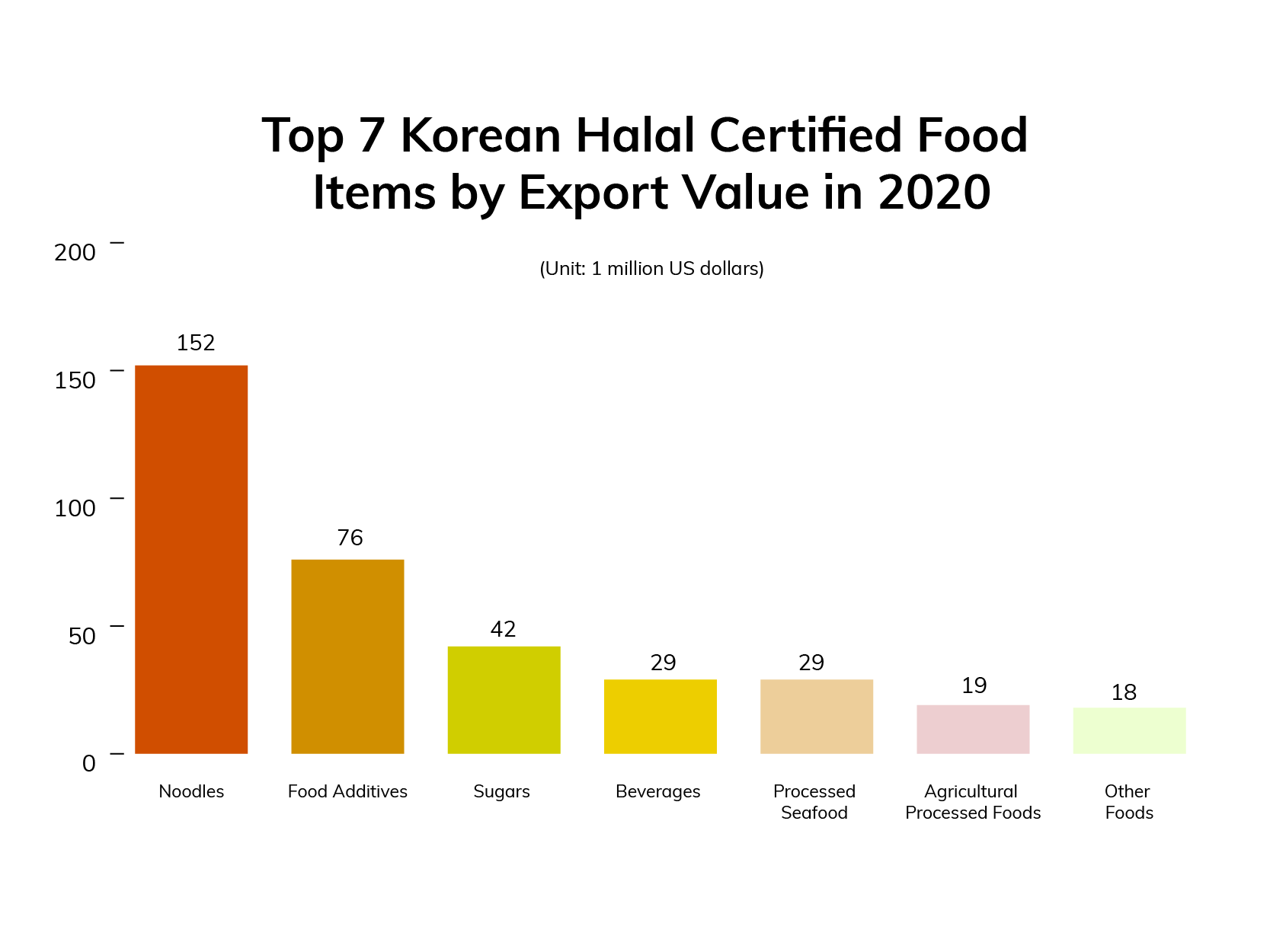 Muslim residents' consumer behaviour
In December 2021 KIHI conducted a survey on the consumer behaviour of the country's Muslims. The survey interviewed 120 people with an average age of 31.7 years old and constituting 78% men and 22% women. On average, Muslim residents had spent 6.2 years in the country.
"Most Muslims are migrant workers or students. Many migrants are from South Asian countries – Pakistan, Bangladesh and Indonesia – but the biggest segment is from Uzbekistan," said Noh.
Factory workers account for 42% of residents followed by students (29%), office workers (11%) and business persons (3%).
Muslims residents' average monthly income per capita is $2,000 or $24,000 a year and KIHI estimated this segment of the population has a total annual income at $4.8 billion. Given the high percentage of migrant workers, around 68% is remitted to home countries.
"The remaining 32% is spent in Korea, so we estimate total annual consumption of $1.53 billion," said Noh.
Annual per capita food expenditure by Muslims, including eating out, was estimated at $5,580 and $1.11 billion in total. Muslim fashion spend is estimated at $95 million followed by cosmetics ($48 million) and travel ($152 million).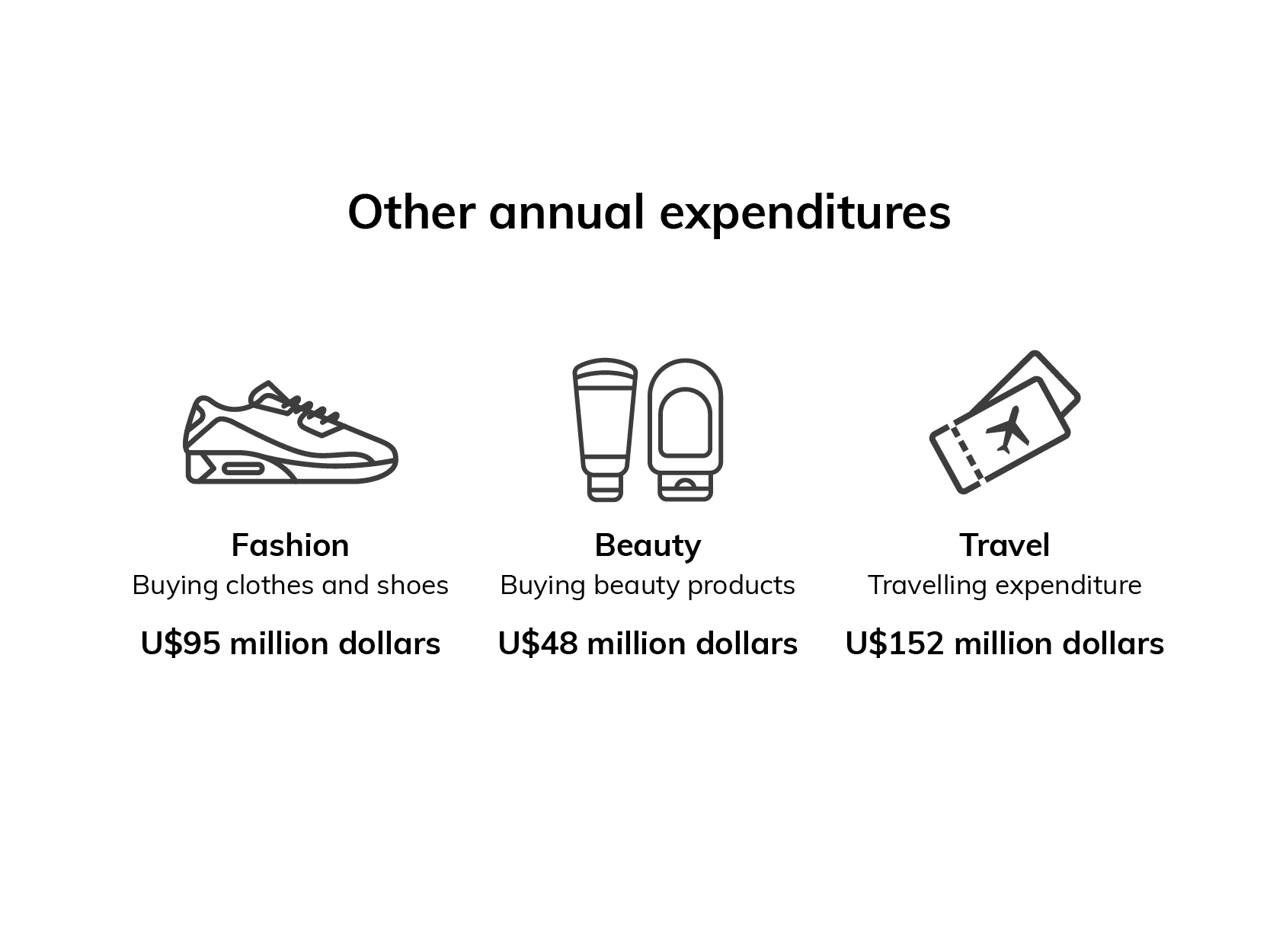 Online shopping among Muslim residents in South Korea grew 45% in the past year that Noh credited to the global COVID-19 pandemic. He said the South Korean e-commerce spending increase was about the same percentage.
"Maybe South Korea needs a dedicated e-commerce platform for halal products," Noh concluded.
Read - Exports of South Korean cosmetics to OIC countries surge 28%
© SalaamGateway.com 2022. All Rights Reserved
---