Indonesia's Bio Farma on track for COVID-19 vaccine Phase III clinical trial, eyes halal certification
---
JAKARTA – Indonesia's state-owned Bio Farma will seek halal certification for a COVID-19 vaccine it is developing with Chinese firm Sinovac Biotech, Honesti Basyir, its CEO told Salaam Gateway.
The CoronaVac is currently in Phase III clinical trials that is expected to be completed within the next six months, according to Honesti. It is currently one of 29 candidate vaccines in clinical evaluation on the WHO's list.
The biopharmaceutical company will apply for halal certification from Indonesia's BPJPH when the vaccine is ready to be mass produced.
"Currently we can't apply (for the halal certification) since the product hasn't been made yet and is still under clinical trial," said Honesti.
Bio Farma is the only vaccine manufacturer in Indonesia.
"We have prepared 2,400 dosages and we're collaborating with the team from the faculty of medicine of Padjajaran University, and the National Agency of Drugs and Food Control (BPPOM), for the clinical trial which will be done in the next six months," Honesti said.
"But of course, halal has also become our main concern and is a must. For us, it's a precondition that we must achieve as Indonesia is majority-Muslim.
"We prioritized non-animal origin ingredients during the clinical trial and we also involved the fatwa commission and LPPOM from MUI to ensure that when we start applying for halal certification to BPJPH, that everything is ready," he added.
LPPOM-MUI is one of BPJPH's appointed halal inspectors and auditors.
Bio Farma has produced more than 15 vaccines and exports them to more than 160 countries. They include vaccines for measles, influenza, hepatitis B, diptheria, and BCG that protects children against meningitis and disseminated tuberculosis.
Its BCG vaccine was halal-certified in April, according to Honesti. The halal certification with LPPOM-MUI expires April 17, 2021, according to MUI's website.
Honesti added that since the company was established in 1980, Bio Farma has been familiar using halal ingredients to produce vaccines.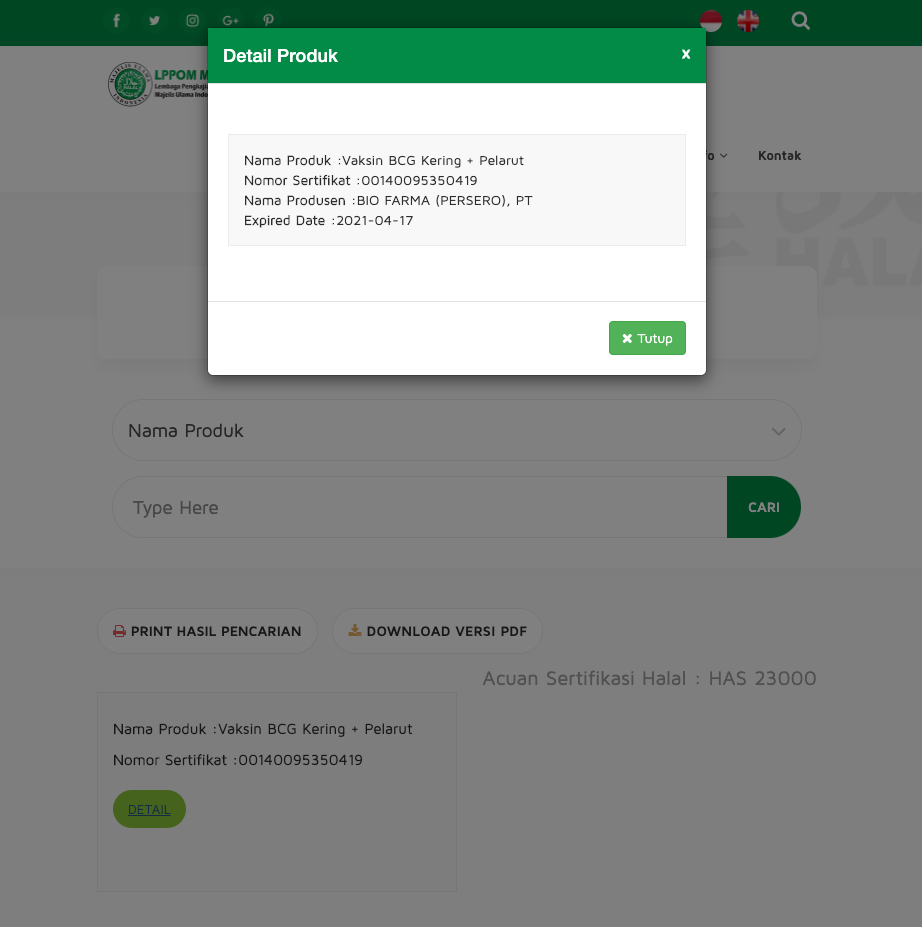 Photo: Screenshot of LPPOM-MUI halal certificate details for Bio Farma's BCG vaccine
DOMESTIC MARKET FIRST PRIORITY FOR COVID-19 VACCINE
The government-owned company said it does not have plans to immediately export the CoronaVac as it will prioritize the domestic market.
"Currently we don't plan to export it yet, since our priority is the Indonesian market. Maybe later once we are able to fulfil domestic demand, we will start to export it," said Honesti.
Pending a successful Phase III clinical trial in the next six months, Bio Farma will apply for a circulation permit to BPPOM and halal certification to BPJPH. It aims to sell to the mass market in the first quarter of 2021 at a cost of around $5 to $10 a dose, according to Honesti.
"Currently our production capacity is 100 million dosages per year, and we are preparing additional production facilities with the capacity of 150 million dosages per year that is expected to be completed in December 2020.
"So hopefully in early 2021 we are able to produce 250 million dosages per year," said the Bio Farma CEO.
The head of BPJPH, Prof. Sukoso, told Salaam Gateway he welcomes Bio Farma's plans to apply for halal certification and said that the authority can prioritize it once the application is complete and is in accordance with the Halal Guarantee Law.
"We can prioritize their application but of course it needs to comply with existing procedures. It will take 93 working days at the latest, and can be much faster," said Prof. Sukoso.
(Reporting by Yosi Winosa; Editing by Emmy Abdul Alim emmy.abdulalim@salaamgateway.com)
© SalaamGateway.com 2020 All Rights Reserved
---