Key takeaways from Nestle's first-half: Significant shift to e-commerce, at-home consumption
---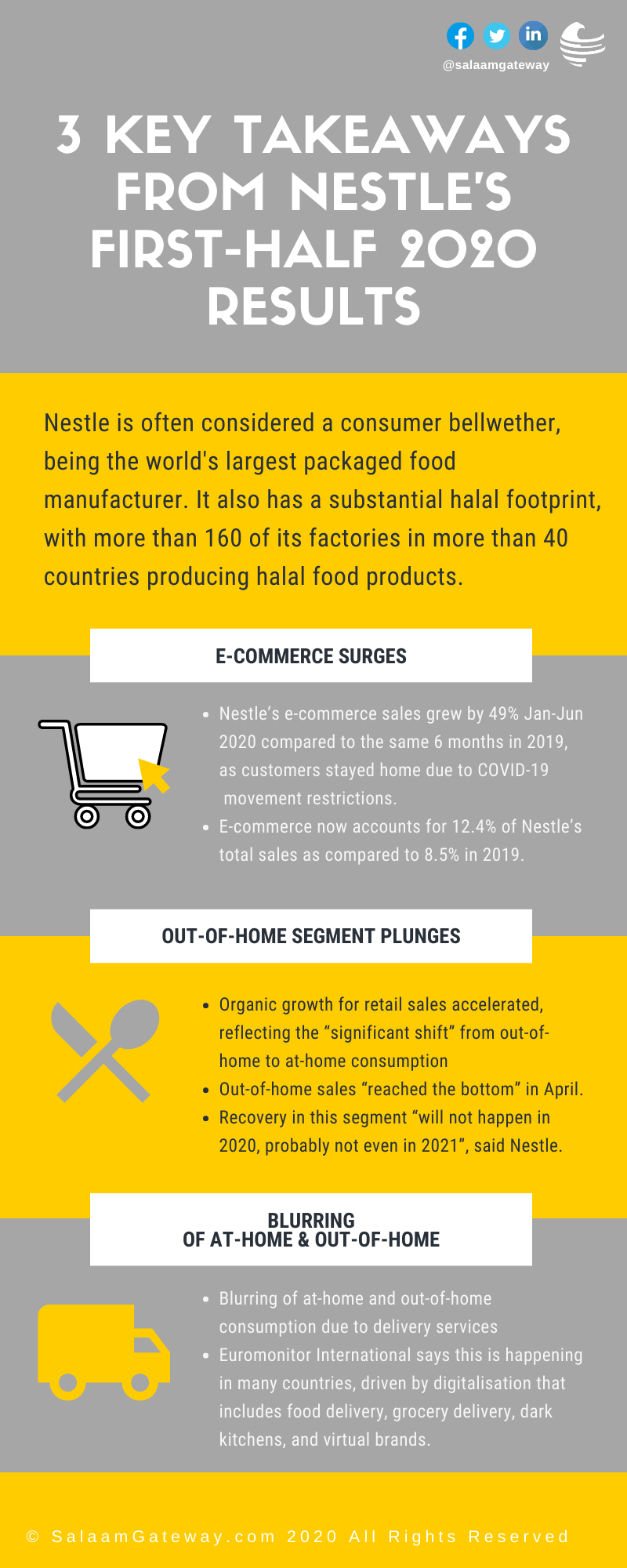 Nestle has a substantial halal footprint. The Switzerland-based company itself has not given a definitive number to the sales value of its halal products but it says that more than 160 of its factories in more than 40 countries produce halal products.
Malaysia is the company's Halal Centre of Excellence and all products out of Nestle Malaysia are halal and halal-certified, including what it exports to 51 countries. As an indication of size, Nestle Malaysia's revenue in 2019 was 5.518 billion ringgit ($1.3 billion).
Nestle is behind global popular brands such as KitKat, Nescafe, Nespresso, Perrier, Nesquik Cereal, Quality Street, Milo, Nestea, Maggi, and Movenpick.
Nestle Group reported first-half 2020 organic sales were up by 2.8% to 41.152 billion Swiss francs ($45.32 billion), although the impact of exchange rates and recent asset disposals pushed down growth by 9.5%. Its net profit grew by 18.3% to 5.9 billion Swiss francs ($6.44 billion), compared with 5.07 billion francs for the same period last year, the company said at the end of July.
The company said its Purina PetCare, dairy, culinary, coffee at home, and health-science products showed strong growth. Water and confectionery suffered a drop.
Nestle is considered a consumer bellwether, being the world's largest packaged food manufacturer. Here are the key takeaways from its January to June 2020 performance and results:
KEY TAKEAWAYS
E-COMMERCE SURGE
Significantly, Nestle's e-commerce sales grew by 49% as customers stayed home amid COVID-19 pandemic lockdowns and movement restrictions.
There was strong acceleration of e-commerce in the second quarter across all of Nestle Group's geographies and categories.
E-commerce now accounts for 12.4% of Nestle's total sales as compared to 8.5% in 2019.
OUT-OF-HOME PLUNGES
Nestle's Chief Financial Officer François-Xavier Roger said organic growth for retail sales accelerated, reflecting the "significant shift" from out-of-home to at-home consumption.
Out-of-home sales "reached the bottom" in April, said Roger. The company was "even slightly less than minus 60% versus last year".
Recovery in this segment "will not happen in 2020, probably not even in 2021", he said.
This shift that Nestle experienced in the first half of the year is a global phenomenon, according to Emil Fazira, Consultant at Euromonitor International.
She told Salaam Gateway the shift to at-home eating has also occurred in Islamic countries.
"What differs across markets would be the extent of preparation of meals and the type of food consumed," she said.
"In some markets like Malaysia where consumers are generally more conservative in spending, home-cooked food is prominent; whereas in Indonesia where home-based businesses and regional delicacies are common, there is a surge of social-commerce driven sales of food," she added.
BLURRING OF IN-HOME AND OUT-OF-HOME SEGMENTS
Nestle Group CEO Mark Schneider said there'll be less hotel and restaurant business "for a while going forward and people may be eating less at some company cafeterias for a while."
However there is a blurring of segments due to delivery services.
"But imagine how many more people, for example, ordered-in from restaurants and dark kitchens and what have you. So clearly, there's a change in nature. There's almost like a blurring of the lines between what is in-home consumption and what is out-of-home consumption," said Schneider.
Euromonitor's Emil Fazira agrees that the foodservice versus retail sales of food is blurring, driven by digitalisation that includes food delivery, grocery delivery, dark kitchens, virtual brands, and even home-based businesses that use the same digital platforms.
"During the pandemic period we see this acceleration especially as foodservices seek alternative revenue streams. Digitalisation has made it more possible for them to gain access to consumers even without dine-in sales and the absence of a storefront," said the consultant.
She said there are different levels of this happening due to the different digital infrastructure of markets and consumer dependence on mobile apps.
"Indonesia is a mobile-first market with consumers prioritising convenience and novelty (such as taste and global cuisine), and so the loss of restaurant business has impacted the market relatively less than markets where luxury dining at restaurants is more common," said Emil Fazira.
In markets where luxury or premium dine-in segments are more common, such as in Australia and Europe, she said, businesses struggle to pivot to a digitalised structure as they have not been designed for such flows.
© SalaamGateway.com 2020 All Rights Reserved
---