Malaysia's Duopharma hopes to sway JAKIM on biosimilar halal certification
---
KUALA LUMPUR - Flush with new funding, Malaysian halal medicine manufacturer Duopharma Biotech hopes to bring biosimilar production to Malaysia and also move the country's halal certifier to acknowledge a key ingredient it uses for dialysis patients.
The company last month signed an agreement with its Korean partner, PanGen Biotech, and government-linked investment body VentureTech for the establishment of Malaysia's first commercial biosimilar production facility in a move to position the country as a regional player in this growing market.
VentureTech will invest 15 million ringgit ($3.6 million) in the joint-venture to establish a new biosimilar production facility, which is expected to be complete in 2024.
"The new plant means venturing into new therapeutic areas and providing halal options for the Muslim market and for everyone else," Duopharma managing director Leonard Ariff bin Abdul Shatar told Salaam Gateway.
Headquartered in Kuala Lumpur, Duopharma currently operates three manufacturing plants in the state of Selangor and also has subsidiaries in the Philippines and Singapore.
Unlike generic drugs that are identical to the original in chemical composition, biosimilars are not the same as brand-name pharmaceuticals but close enough to accomplish the same therapeutic and clinical results as the originals.
The joint-venture comes at a time when the revenue contributed by biosimilars to Duopharma's balance sheet has been increasing. Last year, Leonard Ariff announced the company's intention to ramp up the revenue slice of biosimilars to over a quarter from the previous level of around one-fifth, after it identified the segment as one of its key areas of growth.
Higher demand from private and public healthcare sectors have contributed to increased sales, leading to over 15% growth in revenue for Duopharma, from almost 500 million ringgit ($119.3 million) in 2018 to 576 million ringgit ($137.4 million) last year, Leonard Ariff said.
COMMERCIALISING BIOSIMILARS
Duopharma is the first Malaysian pharmaceutical company to commercialise biosimilar erythropoietin (EPO), branded as Erysaa, which it co-developed with PanGen and launched last year. It is taken by anaemic patients undergoing kidney dialysis to stimulate the production of red blood cells.
Erysaa has been certified halal by the Korea Muslim Federation (KMF) and is currently being filled and finished in Duopharma Biotech's facility in Klang, near to the Malaysian capital. The biosimilar is already under review by JAKIM, the Malaysian certification body, in a bid to obtain local halal certification.
"When we started our collaboration to develop Erysaa with PanGen in 2012, we put in our requirements for the materials and development processes to closely adhere to halal principles," said Leonard Ariff.
"However, we are facing a challenge through the various interpretations by halal certification bodies in different countries on the use of Chinese hamster ovary [CHO] cells in the production of the biosimilars."
HALAL CONTENTION – USE OF RODENT CELLS
CHO cells, which are taken from the surface of the ovaries of the Chinese hamster, are ideal for producing recombinant protein due to their good genome stability. They develop and mature similar to human cells, giving them an advantage for protein therapeutics.
Despite Erysaa being certified halal in Korea, Malaysian authorities closely follow the strict Shafie school of Islamic jurisprudence, and the drug has not as yet been able to gain JAKIM certification since rodent cells are a component of it.
"In our view, we anticipate and understand the science behind the development of the EPO. The fundamental issue of the status of animal alone, however, will not suffice in arriving to a decision as to whether the product is halal or otherwise," said Leonard Ariff.
"There are various other considerations over whether the animal itself was used, or only a part of it, such as the epithelial cells; that the animal was produced in a sterile laboratory environment and not in the wild; that it is not consumed as food, and only a part of its cells was used in the process of producing the erythropoietin.
"This indeed is a challenge that we have to overcome to enable progression in the biosimilars space," he added.
The revenue contributed by biosimilar products to Duopharma's balance sheet has been increasing, especially with the acceptance of Erysaa by healthcare professionals and dialysis patients. Erysaa also recently won a Malaysian Ministry of Health tender for three years.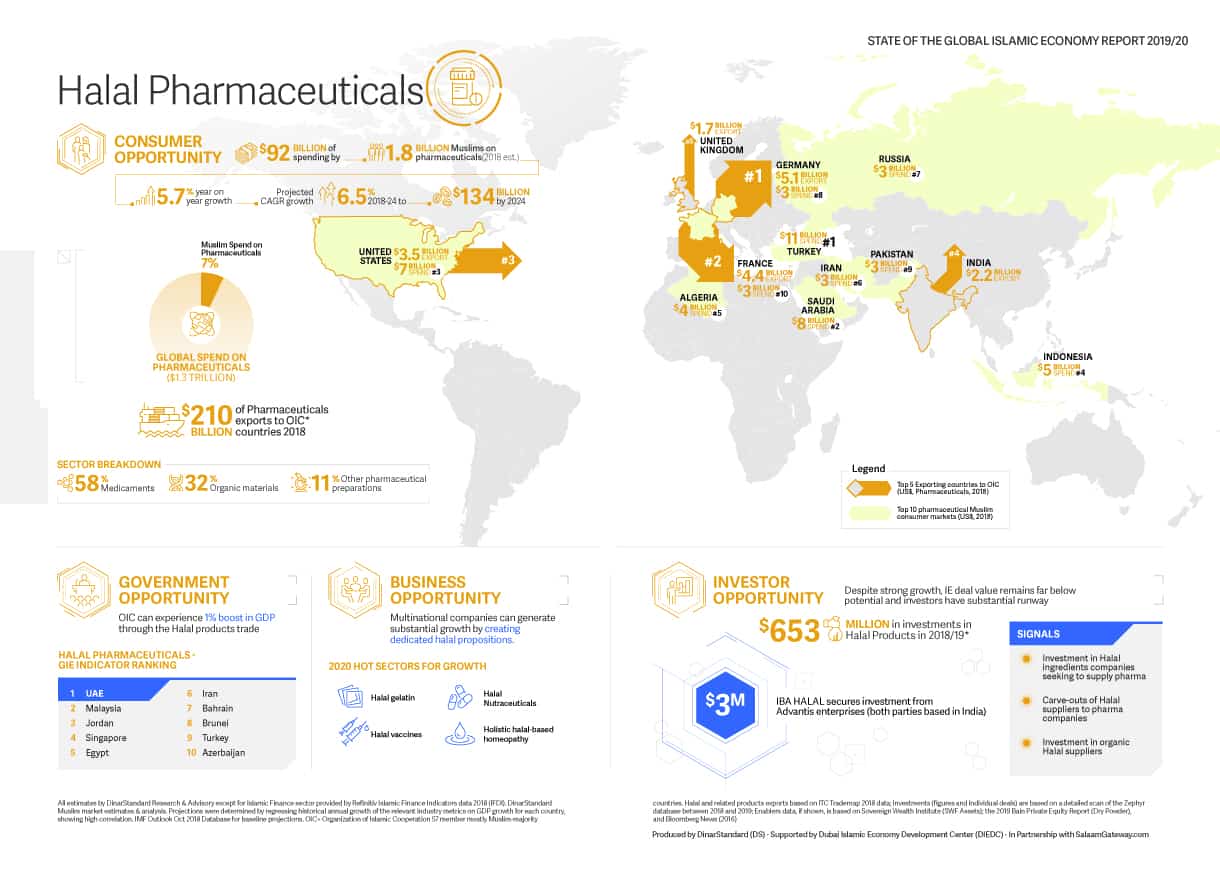 Muslims spent around $92 billion on pharmaceuticals in 2018. Source: State of the Global Islamic Economy 2019/20 report, DinarStandard. Access the infographic here: Muslim awareness on the rise: How big is the halal pharma industry?
HALAL PHARMA RISING DEMAND
Muslim spending on pharmaceuticals account for around $92 billion, with the prospect of reaching $134 billion by 2024. But halal, and halal-certified, pharma make up a very small proportion of this global number, as the sector is still nascent and under-developed even among Islamic countries.
Duopharma's managing director believes that demand for halal pharma will increase along with enhanced awareness of halal drugs and tighter regulation.
Malaysia's halal pharmaceutical exports have been recording steady growth, with a value of 401 million ringgit last year, up from 395 million ringgit in 2018. Total halal exports were worth 40.2 billion ringgit in 2019.
HALAL STANDARD MS2424:2012
Of great benefit to the export industry has been the MS2424:2012 halal pharmaceutical standard developed by Malaysia that has been gaining universal acceptance. Last year, these guidelines were updated to significantly expand the scope of halal certification to address rising demand in biologics and the search for halal vaccines.
Malaysia's halal pharmaceutical ecosystem has been further boosted by the country's general halal pharmaceutical guidelines, which address the entire supply chain from processing to retail.
"Malaysia's global leadership serves to facilitate the successful entry of domestic pharmaceutical manufacturers into the global halal market," said Leonard Ariff.
"Indeed, these strict requirements for certification translate into an additional layer to drive quality assurance, resulting in a higher benchmark for quality standards. Halal certification in the manufacturing process is now acknowledged as a most significant value-add in the pharmaceutical industry," he added.
(Reporting by Richard Whitehead; Editing by Emmy Abdul Alim emmy.abdulalim@salaamgateway.com)
*Amendment: The two paragraphs containing comments from Dr. Zaki Morad bin Mohamad Zaher have been deleted as it was erroneous to credit him as chairman of the group medical advisory committee of the Halal Indusry Development Corporation. Dr. Zaki Morad is an independent, non-executive directot at Duopharma.
© SalaamGateway.com 2020 All Rights Reserved
---