Islamic video game Muslim 3D launches
---
Germany-based Islamic digital media startup Bigitec Studio envisages the creation of a metaverse for Muslims with a focus on Islamic education and entertainment.
Conceived by Bigitec Studio's managing director Bilal Chbib and originally scheduled to be released four years ago, Muslim 3D is now listed on the video game distributor Steam as an early access title for Windows PC.
During an early access period, consumers purchase and play a game that is still being developed. The creator uses those funds to build the game further.
Chbib told Salaam Gateway that a lack of funding and subsequent under-resourcing caused the development delay. "It's just difficult to secure the necessary financing," Chbib said. "But I think if we can bring this software onto the market and also prove that there is a need for it, that we hit a nerve, that people want more of it, then it will make things easier again."
While early access may help continue development, Muslim 3D's limited availability on Windows PC plays into a declining game revenue segment.
Mobile game revenue in 2021 accounted for $91.7 billion, 52% of the global market, according to Newzoo, an analytics and market research company for the gaming and esports industry. The PC segment recorded a 1.7% year-on-year decline to $35.9 billion. The Browser PC segment dropped by 18% year-on-year to $2.6 billion.
Bigitec Studio plans three major release phases over a period of about two years. Phase one presents knowledge-building content, such as a guided tour through a historical Islamic event and library access. Users can customise their own character by choosing a name, gender, ethnicity, skin tone, outfit and hair and beard style.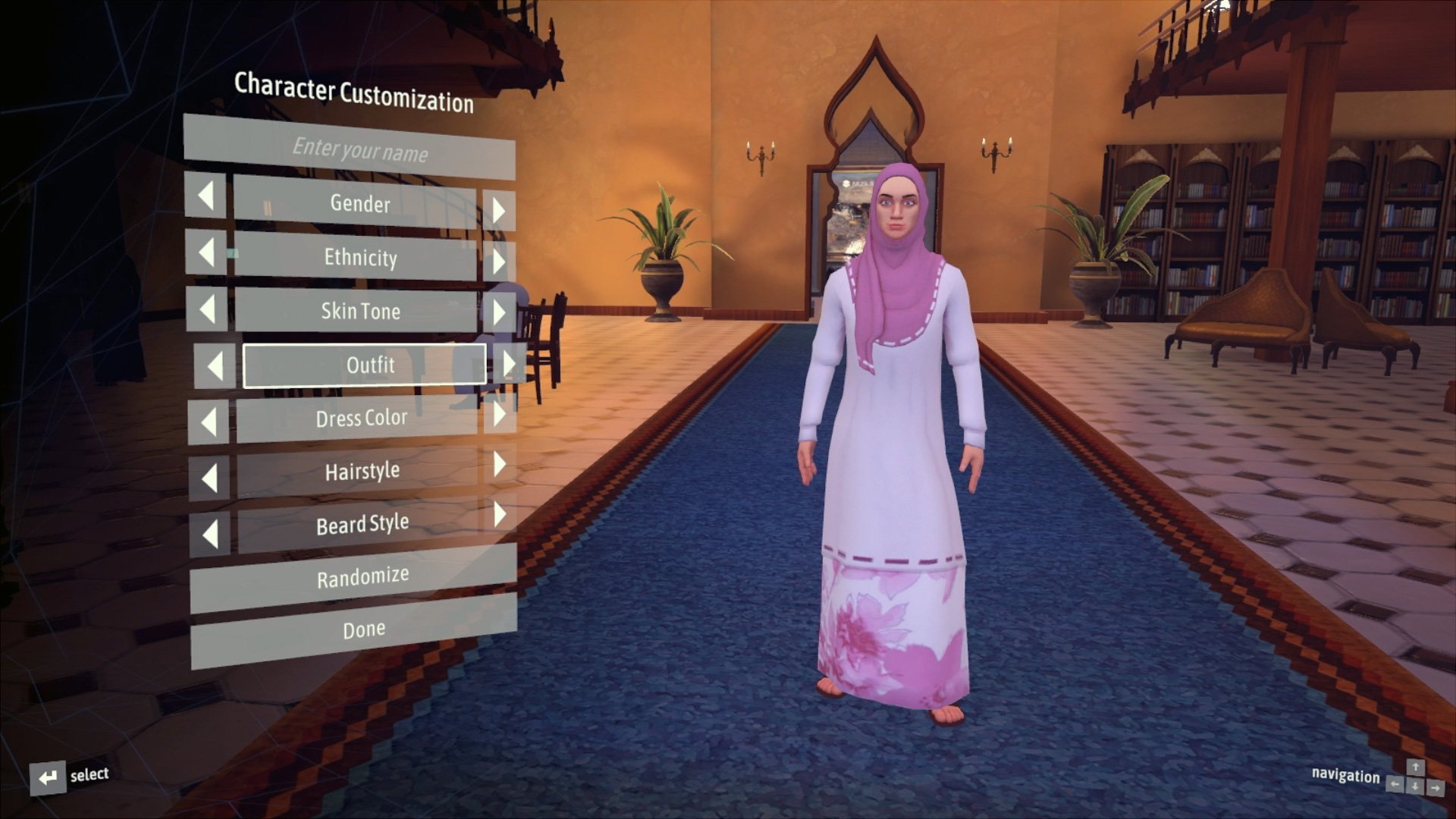 The game's simulation nature will turn into an active role-playing one in the following stage, where users will unlock new experiences, grow with tasks fulfilled and earn rewards.
In the initial phase, Chbib said he envisages a virtual world where people meet performing virtual Hajj and Holy Mosque prayers. Other planned features include live lectures given by scholars and spiritual leaders.
"This phase can serve as a predecessor to a Muslim metaverse," Chbib said, highlighting the possibilities of making actual business offers visible.
"Imagine you're on a Hajj adventure trip in the virtual world that also shows you where and how to sign up for a Hajj tour in the real world," Chbib said.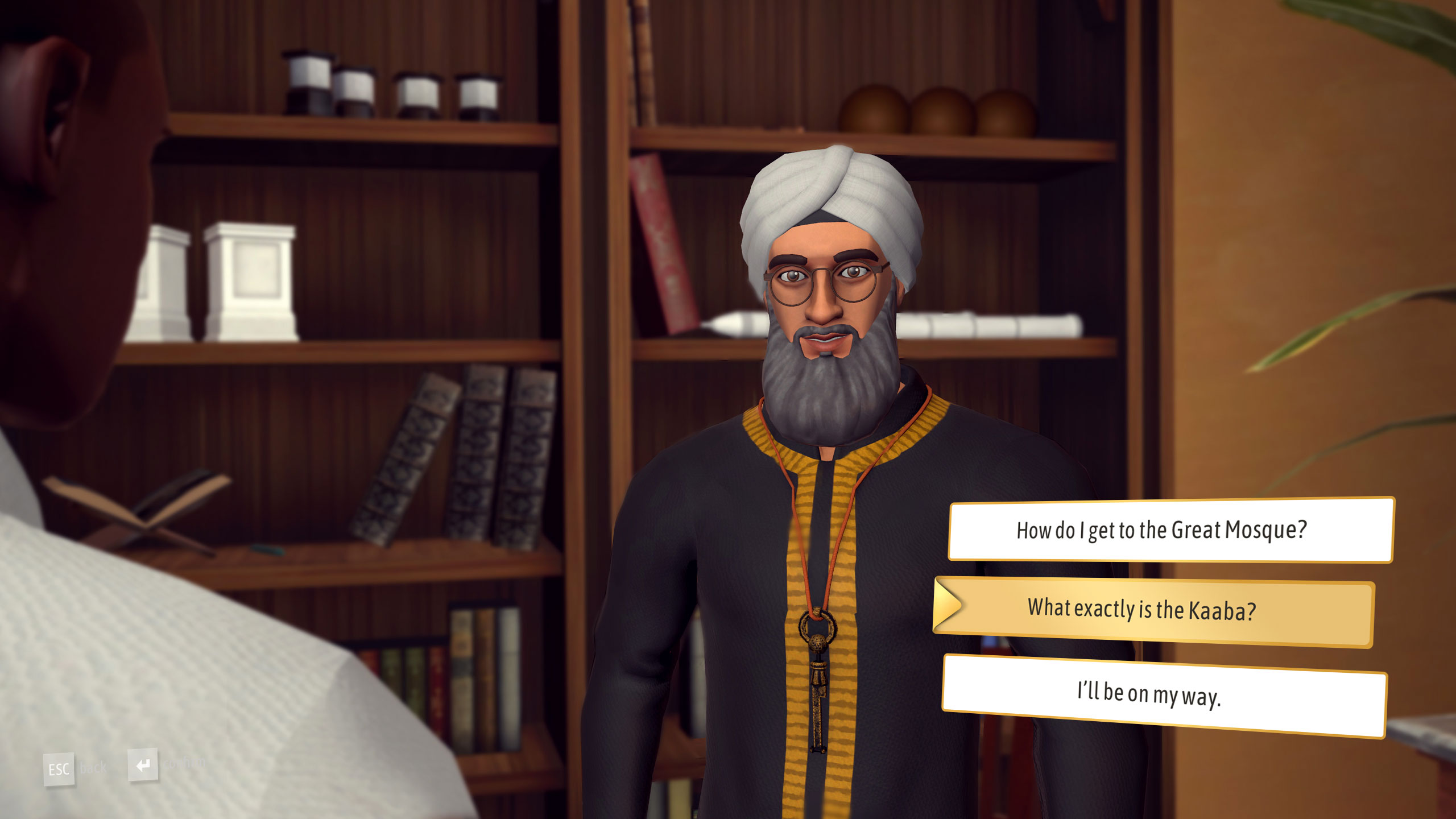 "What can be done depends on the investment budget," Chbib said, "but the ideas are definitely there."
"We are doing pioneering work," Chbib said, pointing out that he would need additional human resources to speed up the process. At the moment Bigitec's team consists of eight members.
Chbib is no newcomer to producing apps and games. Brainseed Factory, a software development company he founded in 2013, secured multiple national and international awards for the debut title Typoman.
In 2020, Brainseed Factory received a $130,000 sponsorship from the German government to develop "The7th Axe," a 2.5D action-adventure game set in Albanian mythology.
With the funding programme endowed with up to $57 million a year, the German government recognises the innovation potential of the growing global computer game industry. Germany is the largest market in Europe and the fifth-largest market worldwide, however, the country has been of little relevance as a development location. Many small, primarily independent companies exist, although there are already around 590 developer studios and only 7% have more than 25 employees.
Dubai has also embraced the economic potential of the creative industry. In April 2021, the Emirate launched its creative economy strategy, including the software and video game industry as a creative field. It aims to double the GDP contribution of the creative industries from 2.6% in 2020 to 5% by 2025. The plan is to double the number of Dubai-based creative companies from 8,300 in 2020 to 15,000 by 2025.
According to Newzoo, the global games market is expected to grow from $175.8 billion in 2021 to surpass $200 billion in 2023.
© SalaamGateway.com 2021 All Rights Reserved
---