Muslim credit society transforming lives of the poor in India
---
Helping community members while adhering to Islamic principles.
Patna: A Muslim cooperative credit society, founded on the Islamic principle that prohibits charging interest on loans, is transforming the lives of numerous poor Hindus and Muslims throughout India.
In the past 20 years, the Al-Khair Society has provided interest-free loans of over Rs. 1,250 million (about $15.2 million) to nearly 25,000 people, mostly those struggling for survival.
Syed Shamim Rizvi, Chairman of Al-Khair told Salaam Gateway, "We have been successful in providing help to those who needed small loans. Initially it was difficult to win (their) trust because … some cooperative credit societies and finance companies had committed fraud and fled with the people's hard-earned money, but Al-Khair succeeded in dispelling the fears of small depositors and won their confidence with honesty and dedication to work."
Most beneficiaries are low-income groups like small traders, shopkeepers, roadside hawkers, owners of small roadside eateries (dhaba wallas), women, labourers and small farmers who had been fleeced by unscrupulous private moneylenders providing loans at exorbitant interest rates.
The Al-Khair Society helped them break free from the loan sharks' clutches and secure interest-free loans. Roughly half of these beneficiaries are Hindus.
The organisation has 13 branches across Bihar, Jharkhand, Uttar Pradesh (UP) and Delhi and provides hassle-free loans two weeks after an applicant has submitted basic documents. Field staff visit the borrowers directly to collect loan instalments, simplifying the repayment process.
Launched in 2002 by Arshad Ajmal, then Chairman of Al-Khair Charitable Trust, Badurl Hoda, Syed Shamim Rizvi and a few others, the society currently has 29,000 members across India.
The founders contributed money and set the ball rolling, registering the organisation under the Multi-State Cooperative Societies Act and operating via a 21-strong board.
Over one-third of Al-Khair's members are women
About 35% of the society's members are women and, in 2012, it established a branch in the Bihar capital Patna fully managed by women. There are four other branches also headed by women with more to follow.
Al-Khair has worked assiduously to build a female workforce. Rizvi said the society has employed widows and divorced women in dire need of financial help. During the nationwide COVID-19 shutdown from March 2020, it became difficult for people to make ends as businesses closed and unemployment climbed.
Rizvi said in that situation, Al-Khair became a saviour for hard-hit poor and low-income families.
"I run a small boutique shop, but it remained closed for months … and my husband, a private school teacher, also faced salary cuts. We have two small children and the government assistance was not enough," Reshma Khan, a 30-something Patna resident, told Salaam Gateway.
She added, as an Al-Khair member, the society provided her with a Rs 30,000 ($390) loan from which they managed their household expenses.
Khan also invested a portion of her loan into the shop to acquire fresh stock and repaid the loan as business slowly picked up.
While the organisation helped other needy people during the pandemic, the COVID-19-induced lockdowns also meant Al-Khair faced financial hardship as deposits dwindled. However, Rizvi said they could not let people suffer and their diligence further strengthened people's faith in Al-Khair.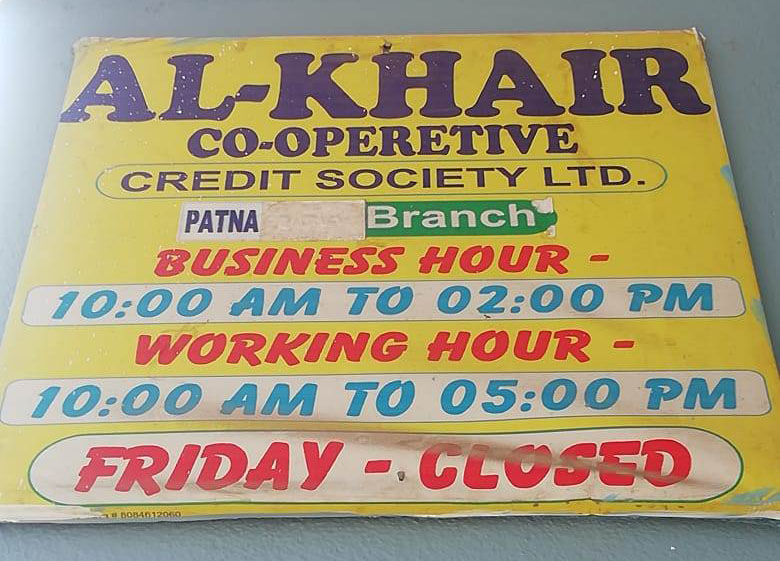 (Al Khair/Shuriah Niazi)
Helping those who can't get bank loans
Al-Khair extends a helping hand to needy Hindus and other communities without discrimination and presents an example of communal and religious harmony. Dinesh Vishwakarma, a young Hindu who runs a small roadside eatery in the UP capital Lucknow, said his shop recently suffered substantial financial loss and he urgently needed money.
"It is very difficult for people like us to get loans from commercial banks. The banks are reluctant … as they require guarantee the loan will be repaid. Al-Khair is different. They don't demand too many documents and charge only a small service fee, so repaying the loan is easy as there is no burden of interest," he said.
Vishwakarma said the Al-Khair loan helped him refurbish and expand the shop, boosting his income.
"It is aptly a people's cooperative," he added.
Given Al-Khair's current popularity and trust, it is not surprising there is demand to open branches, but administrative hassles have prevented the society from new launches since the 2014 venture into Delhi. It plans to open three branches in Bihar and two in Jharkhand, but its application has been pending with the government authorities since 2016.
© SalaamGateway.com 2022. All Rights Reserved
---