Poland yet to confirm ban on ritual animal slaughter, including halal, for export
---
Poland's Lower House of Parliament adopted an Animal Welfare Act prohibiting the export of unstunned halal and kosher meat — a move that could potentially hit the country's fast-growing agri-food sector.
Before the new law comes into force, it has to be approved by the Senate, the Parliament's Upper House.
The Lower House acceptance of the Act adds a new chapter in the country's ongoing discussions on ritual animal slaughter. In 2014, a Polish court lifted a ban on it, arguing that it is unconstitutional.
"The ban discussed in Parliament only concerns ritually slaughtered meat without using stunning," Salim Kessentini, Export Director and the Halal officer at Poland's largest poultry producer Grupa Cedrob, told Salaam Gateway. "That's very different from saying halal meat export has been banned."
Grupa Cedrob slaughters one million birds a day, of which over 200,000 are halal, according to Kessentini.
With the help of 18 trained butchers, slaughtering halal on a 24/7 basis, Cedrob exports around 3,000 tons a month to the Gulf Cooperation Council (GCC) countries.
"30% of Polish poultry is exported as halal, 60 to 70% of which are non-stunning," Kessentini explained. "For this segment, yes, it will be a fatal decision."
"We're crossing fingers that the Senate, or the President himself, will reject it [the Act]," Kessentini said, concerned about the sector's prospects.
The Senate's decision is expected within the next four weeks.
POLAND'S MEAT EXPORTS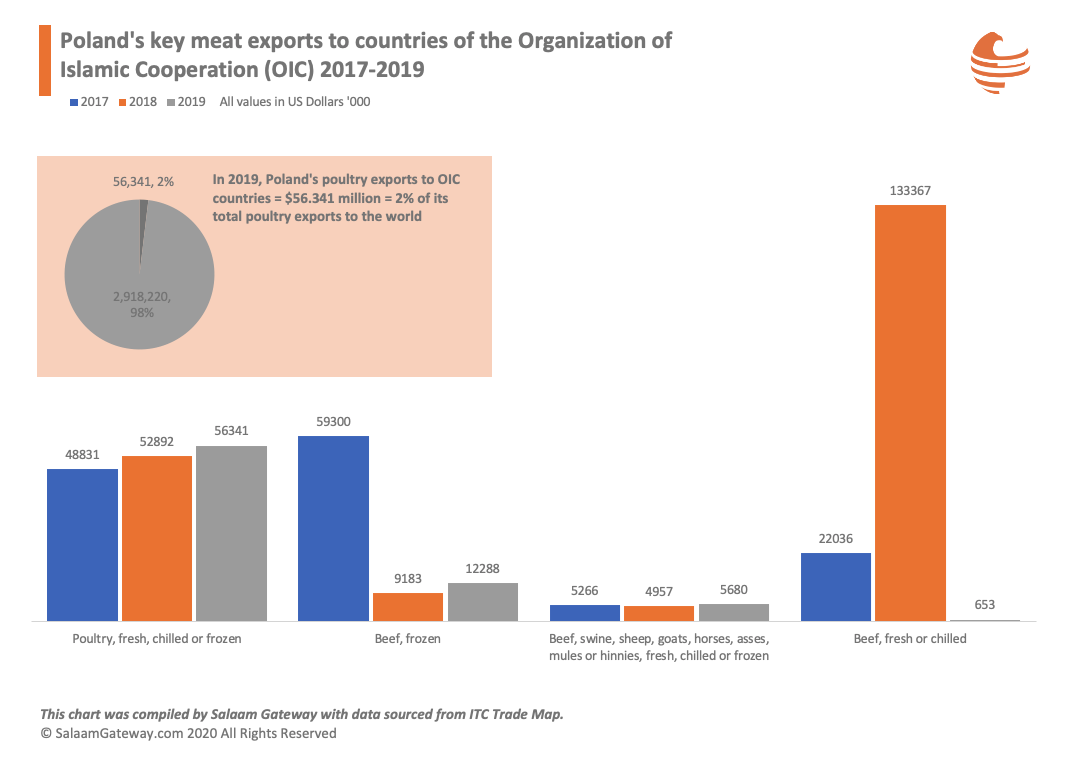 Poland exports mostly poultry to countries of the Organisation of Islamic Cooperation (OIC). In 2019, it sold $56.341 million in poultry to OIC countries, up from $52.892 million in 2018.
Historically, Poland ranked eleventh in the list of top 50 exporters of halal meat to selected 20 member states of the OIC for the 15 years from 2002 to 2016. The country missed the top 10 by a narrow margin.
The list was compiled as part of the 2019 review "Jurisprudence and demand for halal meat in OIC" by Majeed, Al-Zyoud, and Ahmad, published in the British Food Journal.
List of top exporters of halal meat to selected 20 OIC members (2002–2016)
Average Value US$
Brazil
1,943,320,320
India
745,564,736
Australia
521,734,912
France
266,592,976
USA
237,356,128
New Zealand

195,474,976

Pakistan

84,097,800

China

73,240,160

UAE

67,066,104

Saudi Arabia

43,438,260

Poland

43,117,444

Source: "Jurisprudence and demand for halal meat in OIC" by Majeed, Al-Zyoud, and Ahmad, published in the British Food Journal. Data based on authors' calculations on data from comtrade.un.org
The Central European nation's worldwide trade value of exported meat dropped by 2.76% to $5.8 billion in 2019, after almost breaking through the $6 billion mark the year before.
A member of the European Union since 2004, Poland increased its total meat export value by a staggering 2770% just within two decades.
The country produced 5,176 thousand tons of meat, of which 566 were beef and 2,704 chicken, according to the Agriculture in 2019 report by Statistics Poland.
Over 1.4 million farms used 14.7 million hectares and maintained 10.0 million livestock units.
MUSLIMS IN POLAND
Of the almost 38 million Polish people, the Muslim minority comprises an estimated 40,000 community members, i.e., 0.1% of the country's population.
The first written mention of Muslims in Polish history goes back to 1397, Professor Agata Nalborczyk writes in a 2019 paper. Nalborcyk is the Head of the Department for European Islam Studies at the University of Warsaw.
In her paper, Nalborczyk points out that following postwar migrations, the Islamic population dispersed. Religious education suffered as Poland isolated from other countries.
Since the border opening in 1989, Muslim immigrants settled in "the land of fields", including former Arabian students, Turkish businessmen, and political refugees from Iraq, Afghanistan, and Bosnia and Herzegovina.
The Polish Parliament officially recognized Islam in the Act of April 21, 1936, which defined the relationship between the State and 1925 founded Muzułmański Związek Religijny (MZR).
The Act defines the Mufti, imams, and muezzins' election procedure, making Polish citizenship and active and passive language skills for candidates a requirement. For the first time since World War II, in 2004, Tomasz Miśkiewicz was elected the Republic of Poland's Mufti.
MZR operates through six Muslim communities and possesses three purpose-built mosques and Muslim cemeteries.
(Reporting by Petra Loho; Editing by Emmy Abdul Alim emmy.abdulalim@salaamgateway.com)
© SalaamGateway.com 2020 All Rights Reserved
---