Retailer Saudi Marketing Co. posts 408% rise in second-quarter profit as sales soared
---
Saudi Marketing Co. posted 408.21% rise in profit for the three months ending June 30 compared to the same quarter last year as sales soared.
The company behind Farm Superstores reported 19.19 million riyals in profit compared to 3.776 million riyals in the corresponding quarter in 2019.
Sales surged, reaching 566.397 million riyals, a 40.72% increase compared to 402.513 million riyals, the company reported in a bourse filing on Tuesday (August 18).
Saudi Marketing said the increase is a result of higher demand for food and consumer goods amid the COVID-19 pandemic movement restrictions that mostly covered the second quarter, as well as the rush to buy before the value-added tax (VAT) tripled to 15% on July 1.
The company's wholesale and retail trade in foodstuff and household products made up for the pandemic's negative impact on its entertainment and real estate segments.
In addition to its 45 supermarkets and 20 mini markets, Saudi Marketing also operates seven Adventure World amusement centres that had to close during the lockdown months.
The company also said it extended rental discounts to tenants in its real estate segment.
JANUARY TO JUNE PERFORMANCE
For the first half of the year, sales reached 1.028 billion riyals, a growth of 29.87% compared to the same time last year.
Net profit soared by 2,226%, from 1.174 million riyals in 2019 to 27.307 million riyals this year.
PANDEMIC IMPACT ON SAUDI FOOD SECTOR
Saudi Marketing joins fellow supermarket and foodstuff retailer Abdullah Al Othaim in posting profits amid the pandemic. Al Othaim, which operates more than 230 stores mainly in Saudi Arabia but also in Egypt, posted 113.26% increase in profit for the second-quarter.
Major food manufacturer Savola also reported positive profit growth, of 271.69%.
Another major food company, Almarai, also posted growth, albeit a more muted rise of 10.54% for the second-quarter, but it said it anticipates "significant challenges" for the second half of the year.
The pandemic hit foodservice and catering hard. Among the companies that have already reported first-half earnings, Herfy, which operates its fast food restaurants and bakeries, reported a loss as sales plunged 45% in the second quarter. Saudi Airlines Catering, hit by the suspension of flights, also saw red.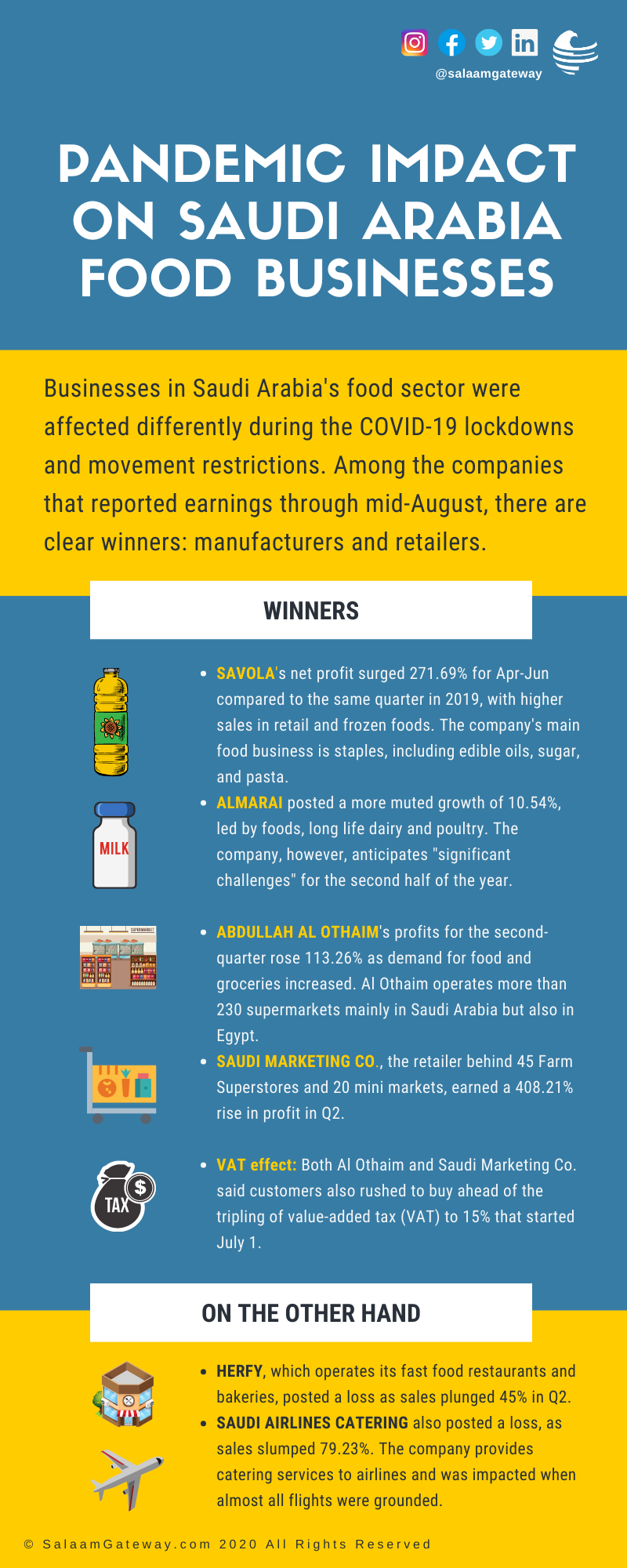 © SalaamGateway.com 2020 All Rights Reserved
---