UAE F&B group Agthia profit slides two years in a row
---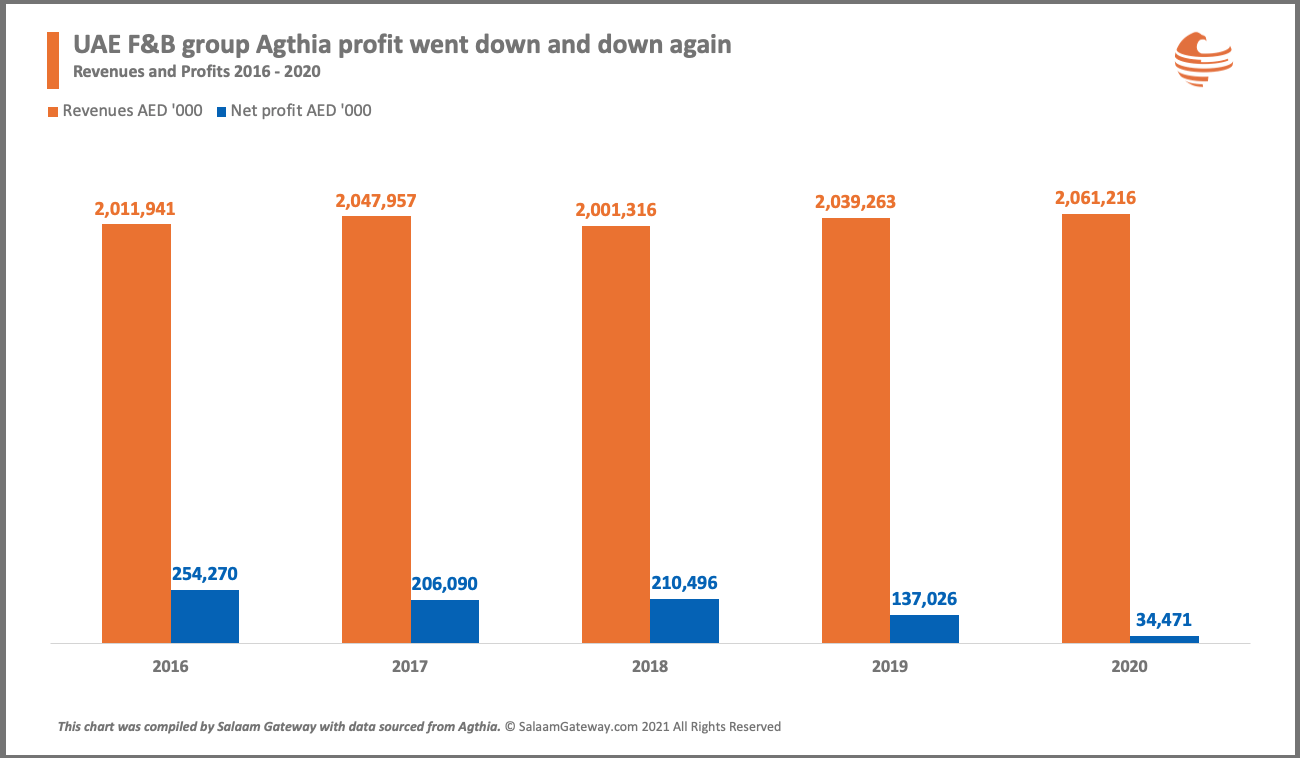 UAE food group Agthia posted 34.471 million dirhams ($9.39 million) in net profit for 2020, down 74.84% compared to 137.03 million dirhams in 2019.
The Abu Dhabi-based company said in a bourse filing on Feb 2 that normalised net profit of 117 million dirhams excludes the aggregate 82 million one-offs recorded in the third-quarter after its strategic review exercise.
"Lower bottom-line versus last year resulted from the unfavourable sales mix and the extra costs borne to guarantee business continuity specifically in H1," said Agthia.
For the first half of 2020, the group reported a year-on-year rise in general and administrative expenses by 31.86% to 103.37 million dirhams, and cost of sales increased by 4.07% to 756.11 million dirhams.
However, there was positive movement as revenue edged up by 1.08% to 2.06 billion dirhams for the full-year 2020.
The group competes in consumer business selling water, beverages, dairy, tomato paste, frozen vegetables, bakery and trading items, as well as in agri-business that covers flour and animal feed.
Consumer business made up 55% of turnover for the company behind Al Ain and Al Bayan bottled water.
Agthia underwent a lot of changes in 2020. It named a new CEO in July, and went on a bit of a spending spree in an attempt to buy growth.
"[I]n support of our growth agenda, we underwent major changes from the appointment of a new board, CEO and new top team additions to the sign-off of the distribution agreement with VOSS and the progress made in value-creating target acquisitions: Al Foah Company LLC, Al Faysal Bakery & Sweets and Nabil Foods," said the company.
Agthia is 51% owned by the government of Abu Dhabi's industrial investment holding company Senaat, which in turn is owned by ADQ. Outside its home market of the UAE, Agthia has subsidiary operations in Egypt, Turkey, Oman, Saudi Arabia and Kuwait.
© SalaamGateway.com 2021 All Rights Reserved
---